Roasted Cherry Tomato Salsa
Bubba Durand
A great way to use up those end-of-the-season tomatoes. This salsa freezes beautifully.

2 pints small cherry tomatoes and/or grape tomatoes
3 jalapenos
1 white onion, thickly sliced
4 cloves garlic, peeled
canola oil
kosher salt
freshly ground black pepper
cilantro, chopped
freshly squeezed lime juice (or cider vinegar if you don't have limes)

Wash and dry tomatoes.
Remove stems from jalapenos and cut each in half. Remove seeds and ribs if you want a mild salsa.

Preheat oven to 475 (or 450 convection).
Line a rimmed baking sheet with non-stick foil.
Put the tomatoes, onions, jalapenos, and garlic on the baking sheet.
Drizzle on some oil and toss everything to coat. Use gloves if the jalapenos are hot ones.
Sprinkle everything with kosher salt and black pepper.
Roast for 10 minutes.
Switch to broil and keep a close eye on it until everything is spotched with brown/black.
Scoop the roasted veggies into a blender, along with any juice that has accumulated on the sheet pan.
Pulse to blend everything into a coarse sauce. Leave some texture in it.
Pour the sauce into a bowl stir in the chopped cilantro.
Season to taste with lime juice (or cider vinegar) and salt.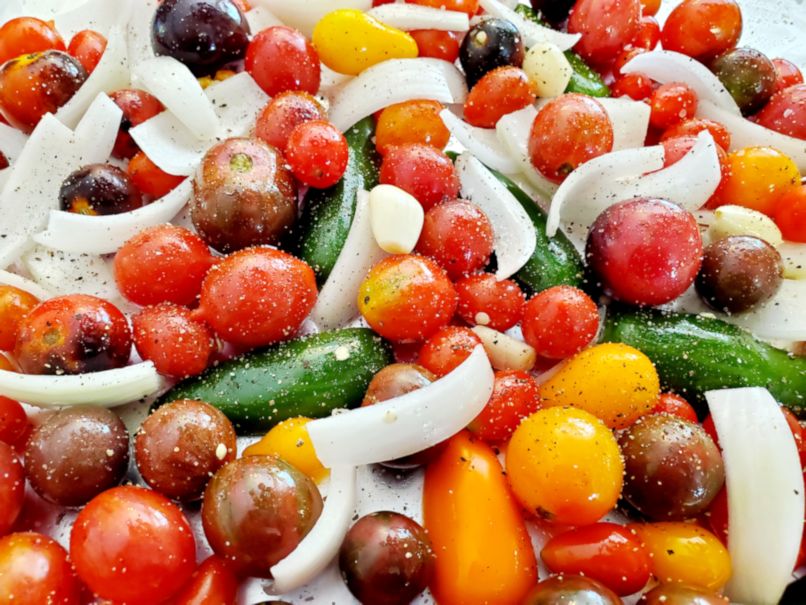 The Johnson Family Cookbook